This is Evie…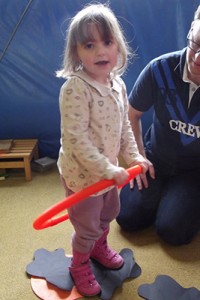 Evie is a bright, sociable 5 year old with a great sense of humour. Evie also has Ataxic Cerebral Palsy. Ataxic Cerebral Palsy affects Evies general balance, co-ordination and precision of movements. Impacting on dressing/undressing skills, writing and fine motor tasks and walking. Evie is a determined little girl who continues to develop and improve her skills and independence.
This is Hazel…..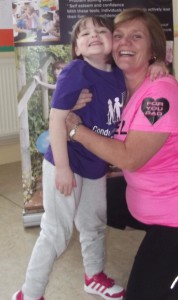 Hazel is running the Bath Half marathon on March 13th 2016 for Conductive Education Bristol to help children like Evie to develop their gross and fine motor skills, communication, self care skills, problem solving skills, confidence, self esteem and independence.
Here are a few words from Hazel herself…
"My name is Hazel Champion. I am 51 years old and I am an Ofsted Registered Childminder. I am running the Bath Half Marathon as a tribute to my late father, who died unexpectedly in January 2015. He was fitness mad and enjoyed sport and exercise for the whole of his life. In his early life he enjoyed windsurfing and squash, and in his later life he loved to run, cycle and spin…..and he was always up for new challenges: he learnt to kitesurf at the age of 76!
I, however, never shared his passion for sport until I turned 50. He was delighted that I had discovered the gym, and in his enthusiastic manner he declared over 2014 Christmas dinner that he would love me to run a half marathon with him. Me? Really? Within a few weeks I had lost my dad, completely unexpectedly, and I knew that I would have to honour his wish. So here I am training hard to make him proud.
If I am to undertake this challenge, I would like to help others at the same time and I have chosen to support Conductive Education Bristol. This Community Company helps children and young people with motor disorders (such as Cerebral Palsy and Developmental Delay).
I have cared for Evie since 2011 and travelled her journey with her and her family. Conductive Education Bristol has given Evie so much physically and emotionally. She has progressed so much over the last few years. Conductive Education Bristol needs funds to bring their help and expertise to families for FREE. I will be honoured to help them continue their work. Please help me to do so."
To sponsor Hazel and support Conductive Education Bristol and children like Evie please click here…….